Our survey results are in, and reveal that self-employed returners are disadvantaged when they go back to work after having children, despite most saying they would like to work more. Only 20% of self-employed women are back to their pre-baby earnings by the time their child is 2, compared with 26% amongst employees. (ONS Labourforce Survey)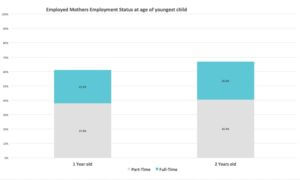 Data: ONS Labourforce Survey
Data: Parental Pay Equality / Organise
This is despite a huge 62% wanting to work more, compared with only 10% of employed mothers in part-time work wanting to work more. (ONS Labourforce Survey)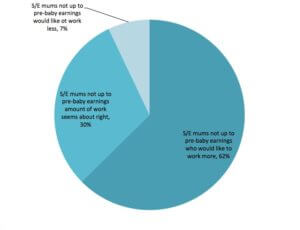 Data: Parental Pay Equality / Organise
51% (both men and women) said that being eligible for shared parental leave would make the biggest difference to their family, yet 3 years to the day after this legislation was first introduced for employees, the self-employed remain ineligible. Many respondents also mentioned the lack of flexible affordable childcare as having a negative effect on their business, as the unpredictable nature and jobs at short notice made it difficult to use conventional nurseries and childminders that need to be paid upfront. 59% were not satisfied with how they were able to divide childcare and work as a couple.
This is why the government needs to listen to the thousands of self-employed families being held back by the inflexible systems of Maternity Allowance and limited KIT days, and embrace Shared Parental Leave and Pay for all.
Labour MP Tracy Brabin, who has introduced a bill to Parliament aimed at extending shared parental leave and pay to the self-employed said, "The time for introducing shared parental leave for freelancers is long overdue. It's clear from this important research that many freelance mums want to work more and that the amount of work they can take can be affected by childcare commitments. The good news for the Government is that I've already introduced a bill to make shared parental leave available for freelancers and all they have to do is support it."
Methodology: 143 People took part in an online survey run by the Organise Platform and Parental Pay Equality. The ONS stats are from the ONS Laborforce Survey .